Karuizawa is known as a popular summer mountain vacation spot for Tokyo residents, due to its cooler temperatures and many outdoor activity destinations. But in the winter, most of the museums are on "winter break", it is too cold and icy for hiking, so if you do not enjoy winter sports like skiing and snowboarding, there is not much fun to do. We had a free day in Karuizawa so we tried out a few spots to share with you:
Asama Jomon Museum
MMOP Museum Terrace (museum/gallery itself is closed)
Lunch with a view of Asama Mountain at Zingara
Bouldering at Climbing Gym Sorani
Shopping at Karuizawa Prince Outlet
Dinner at Chinese restaurant 一品香 Ippin Xiang
Stay at Kyu-Karuizawa Harvest Club and enjoy the hot spring and pool
Bonus: dinner at Trattoria Abbiocco
Asama Jomon Museum
This museum is a small addition to the town community center. It is quite hard to find at first and not obvious – we ended up parking at the town hall and walking down, but parking is at Miyotacho Ecole Miyota Community Center.
Jōmon Museum is one of the few museums open during the winter. It is rather small with three parts to the exhibit, and would take around at most 30 mins. There are both Japanese and English texts. For a fan of ancient Japanese history, I think this would be a fun, quick spot. It is also a good introduction to the Jōmon era for people who, like me, know very little about this period.
Jōmon period, 6,000–300 BCE, is characterized by hunter-gatherer inhabitants skilled in pottery and "cord-marking". This museum houses many examples of such pottery and clay masks and figurines. The much loved haniwa figurines are actually not part of Jōmon period but of Kofun – regardless, in the museum shop and capsule toy machines, there are many haniwa toys sold.
If these photos or the history of intrigue you Jōmon period intrigue you, stop by the Asama Jomon Museum!
MMOP Museum Terrace
MMOP Musuem is closed during the winter, but the cafe area surrounding is open. There is a landscape design studio called Studio Kyoryu (Studio Dinosaur), which is named dinosaur because their mission is to think so deeply about the land they reach the layers of the dinosaur.
Next door is Cabotcove Museum Terrace, dogs are allowed in the covered and heated patio area. We did not try this place out, but noted it for next time – the struggle is real in Japan for dog owners to find a pet-friendly restaurant. Right adjacent is a cafe called Koichiro Coffee. Up the path, there is a steakhouse Feu and Cercle Plus, a wine shop and cafe.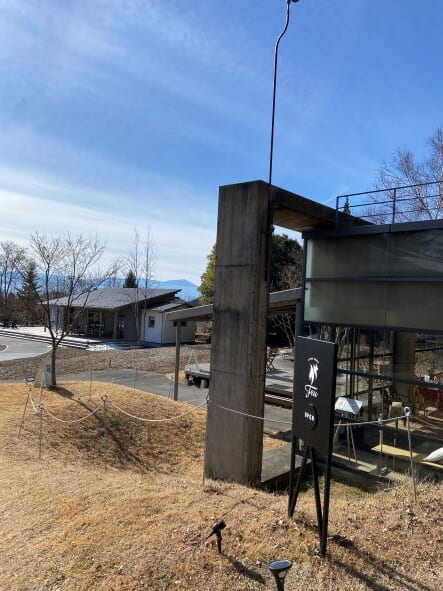 Here is a map of the area found on the MMoP museum: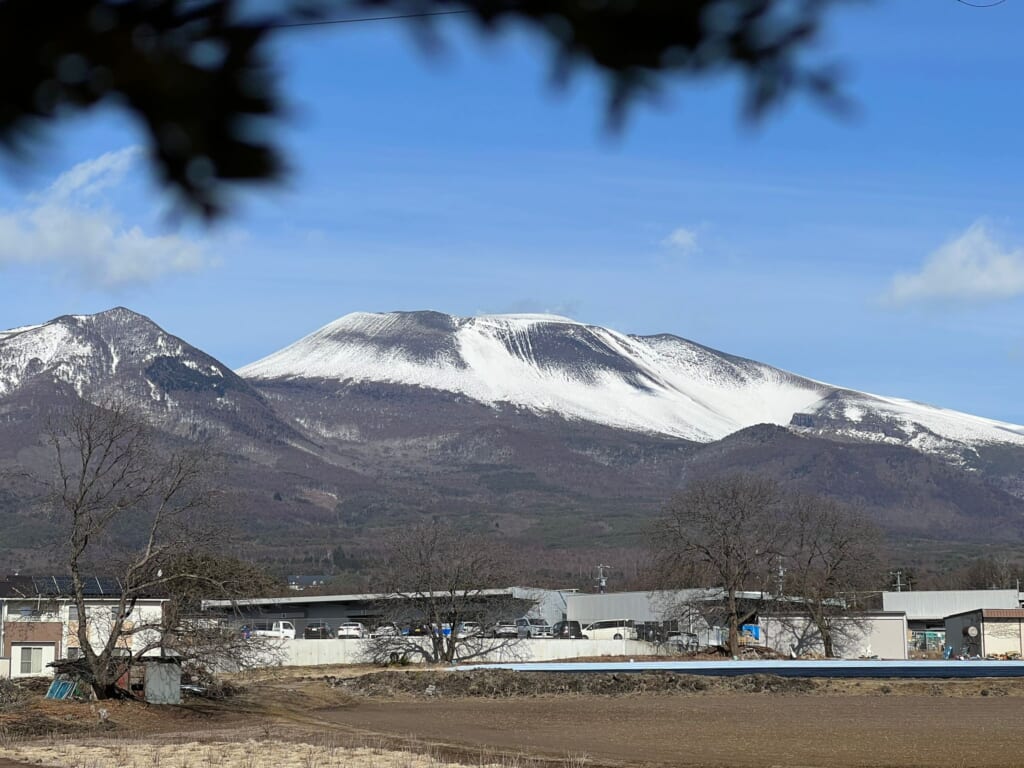 Italian Restaurant: Zingara
For lunch we went to Zingara, after calling ahead and making sure there were available seats. Luckily, we got seated at the counter which has a great view of Mt. Asama. The food was really good, and price is not cheap but not expensive. Their thin crust pizza is great and freshly baked, and vongole pasta was delicious as well. Their lunch menu comes with a salad and coffee/tea.
Climbing Gym Sorani
This climbing gym is a bit far out of the way from everything else, but we decided to give it a try. For one of us, it was our first time going bouldering. The gym is not heated and very cold, but you warm up quickly once you are on the walls. Because we went on a normal weekday, there were only a few kids and adults, and one staff member. There is an option to take a one-hour beginners course, but we decided to skip it and just listened to a quick set of instructions. The pricing on a weekday is 2200 yen for adults, 1650 for students and 1300 for children, which is very reasonable for a climbing gym. There are many courses to try out, even for beginners, and because a lot of them are geared for children, the reach is not bad. You can rent shoes for 300 yen and chalk for 100 yen, again very reasonable prices.
We then had aimed to go ice skating at Kera Ike Skating Rink, but they closed at 4pm and we did not make it in time. For next time!
Karuizawa Prince Shopping Plaza
Now with a few hours until dinner, we decided to kill some time by shopping. The Karuizawa Prince outlet mall is huge, and all outdoors so be sure to dress warm. You can visit with a dog but inside the stores they must be carried or in a carrier bag/cart. There is a food court, several restaurants and cafes, a pond, and stores of every kind, so every family member is guaranteed to have fun.
一品香 Ippinsyan Chinese Restaurant
For dinner we went to 一品香 Ippinsyan, a delicious casual restaurant ran by a former chef at the Manpei Hotel. Our favorites were the Taiwanese century pitan eggs, spicy boiled pork with garlic sauce, abalone and scallop soup, shrimp steamed dumplings, pepper steak (青椒肉絲), stir fried noodles with vegetables and meat thick sauce, and highland lettuce fried rice. We ate a lot! Very reasonable price as well.
Trattoria Abbiocco
The previous night we had gone to Trattoria Abbiocco, an Italian restaurant walking distance from the station. We called ahead to reserve our spot on the day of. The exterior is very cute, like an actual Italian house. Upstairs is the dining, and there are only three tables, one chef. The food was excellent, though the house wine not so much. There are so many items on the menu that you know you will find something you will love. We tried the antipasto misto, gratin, and squid ink pasta.
Tokyu Harvest Club Kyukaruizawa
Nothing we love more than a nice hot onsen after a long day in the cold. This is our second time staying at Kyukaruizawa Harvest with our dog, our first time we were housed in the Annex building but this time we were in the main part of the hotel – or so they told us. We still needed to exit outside first before entering the main hotel where the pool and onsen was. However, there are perks to pet-friendly rooms: the living room was large and a separate bedroom with a desk.
The heated pool was a pleasant surprise and we had a nice swim in the early morning, before it got crowded with small children. For adults, beware: this hotel has a very high percentage of families with young children.
We had a pleasant and warm stay here, with a delicious breakfast buffet to wrap up our short trip to Karuizawa.
Other Winter Activities
In one day we couldn't try everything, but here are a few more ideas:
Let us know any other fun spots that you know of! There is still a long winter to go, let's enjoy the cold weather!