Japanese food almost always include fish extracts/broth (aka "dashi").  But that doesn't mean there aren't any vegetarian/vegan options available. We tried out some vegetarian/vegan restaurants, and here are our favorites!
1. Bon 梵 (Vegan)
Located in a quiet neighborhood, Bon is a great little place to enjoy Shojin Ryori (Zen Buddhist Vegan Cuisine). If you're looking for a restaurant with private rooms, this is a must go place.  Be prepared to spend some $$ for a fine dining experience. Their course prices do not include tax, and they add 10% for service charge.
We had the 6000 yen course, this is the Japanese and English menu. It was very filling! We enjoyed eating Shun Kan the most, but all dishes were exquisite.
Must call and book before you go (03-3872-0375).
Looking for vegan bento and dessert? Look no further than Ain Soph. Ginza.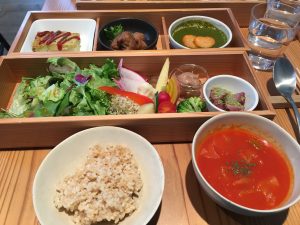 Their 3450 yen set includes rice and soup, along with assortments of side dishes in the bento box. Tea/coffee after the meal is included. We didn't get to try the desserts since we were too full from this bento set. Their soup and green curry is amazing!
We think it's better if you call in advance to make sure you get seats.
Ramen is a hard dish to make vegan, but T's Tan Tan does a great job in preparing delicious bowls of noodles. Our absolute favorite is Hot and Sour Noodle and Black sesame.
After eating here, all other tofu just doesn't taste right.  Definitely get the Special Make-at-table Tofu. Our unexpected winner though, is the camembert cheese tempura. The store has great Japanese vibes.
*For Handmade tofu, make sure you ask for normal soy sauce (without the "dashi"), since dashi shoyu has fish extracts.
Everyone knows T's Tantan, but did you know there's another vegan ramen in Tokyo Station that is just as amazing (if not better)? Go to Soranoiro at Tokyo Ramen Street (outside the concourse, so no need to buy a JR ticket) and get Veggie Soba.