Do you still remember there was a chaos of Tsukiji Fish Market Move about two months ago? How are they doing now? We need to check new Tuna Auction as one of the witness who saw the last Tuna Auction in Tsukiji.  So we went!  We drove to Toyosu and arrived around 5:30 am when the tuna auction starts on Dec 7th, 2018.
Tuna Auction
First of all, let me explain that the new Toyosu market has three main buildings. Tuna Auction is in Map A. Unlike Tsukiji, this new Toyosu Market is carefully planned for visitors. Visitors are completely separated from the auction area. Follow the yellow belt sign with Visitor tag on your chest.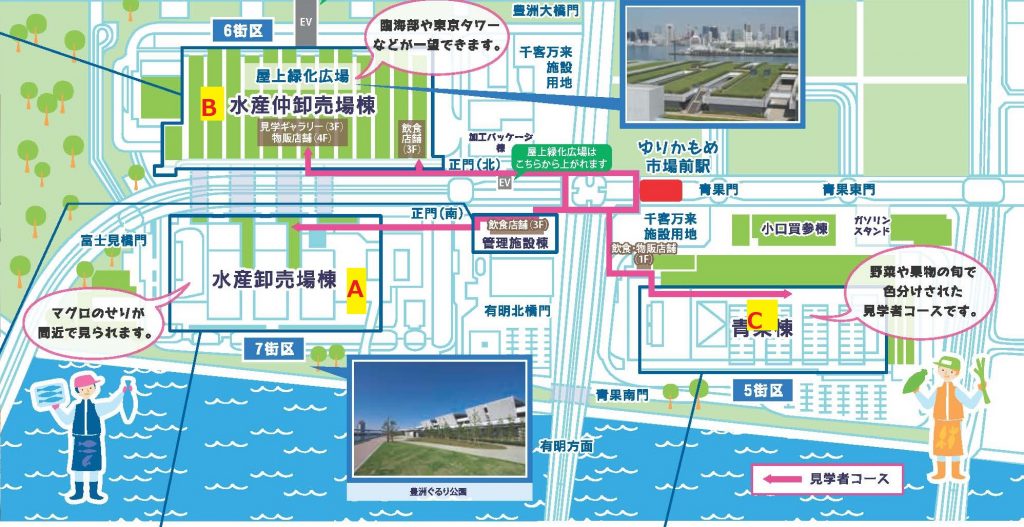 From above, you can see the auction area, but cannot hear anything (even the noisy bell that tells the start of auction), and no smell at all. The window is of thick double glass structure. Good thing about this new system is that there is no need to queue up from 1:30 am for limited spots. You can just walk in around 6:00 am and still see the auction. It is different but felt much more modernized.
Sushi Restaurants
After checking the auction, it is now time to check the sushi queue situation. Are Sushi Dai and Daiwa still popular? In Tsukiji they were in the same alley.  Here in Toyosu, Sushi Dai is housed in Map B, fish intermediate whole sales section with knife and utility shops on upper floor while Daiwa is located in Map C, Vegi section where less people visit.
We had our sushi breakfast in Iwasa Sushi.  The owner said there were less people in the early morning until 10:00 am; in Tsukiji it was crowded from around 7:00 am.
Maybe that is why most shops open late at 7:30 or 8:00, some even at 9:00 am. Do we recommend to visit Toyosu?  Maybe not. Tsukiji outer market, the market that still remains in Tsukiji has more to offer. You can take a closer look at fish and vegetables, with more food stalls and restaurants. Above all, now with less people, it is easier to walk along the narrow allies and faster to buy food.