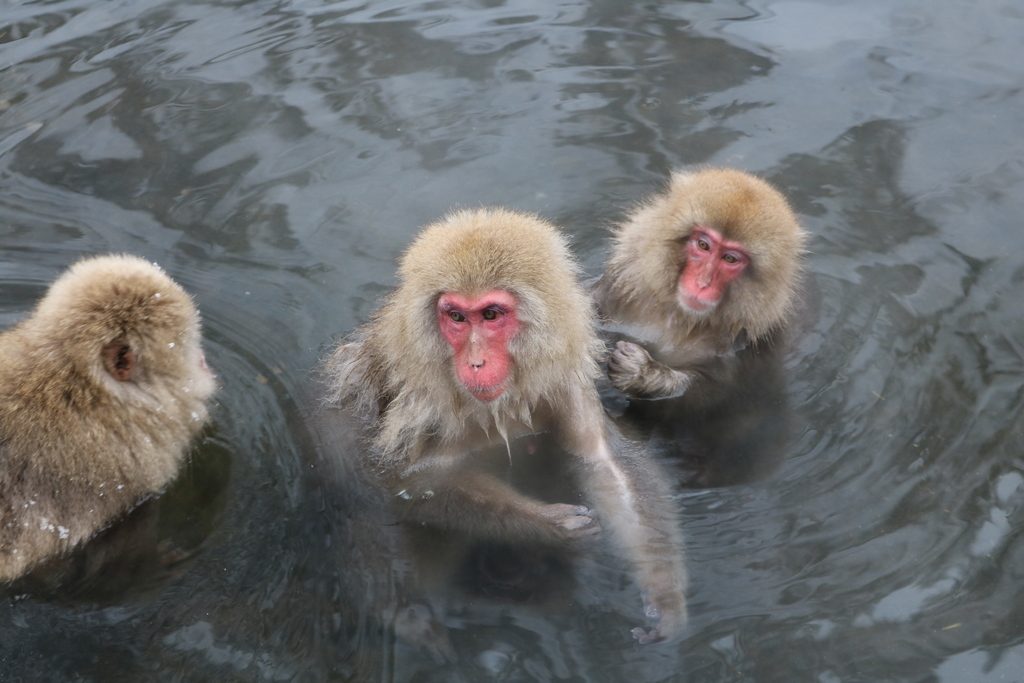 Monkeys bathing in Onsen, natural hot spring in snow is an iconic scene of Japanese Winter. Where are they? Can we make a day trip from Tokyo? Are they always there? We went there to check it for you. 2 things to take away from this trip: A) monkeys were super cute and  B) the walking path was very slippery.
They are wild monkeys that come to bath in the natural park (not national!), managed by a private company. The park is located in the  northern part of Nagano prefecture. Nagano hosted the Winter Olympic in 1998, that should give you a general idea of how cold the area can be.
Q:Where do the Snow Monkeys live?
1)  They live in Yamanouchi-cho in Nagano Prefecture, where the nearest station is Yudanaka on Nagano Rail. From Tokyo, you first ride the Bullet Train (Shinkansen) from Tokyo to Nagano, which takes about 90 minutes.  Then take local trains from Nagano to Shinshu Nakano, Shinshu Nakano to Yudanaka. When you depart at 9:32am from Tokyo station, you will reach Yudanaka at 12:16pm. Approx. 3 hours and train fare is 9,160 yen per person, which is not bad!
2) From Yudanaka Station, take a taxi or ride a bus to the nearest parking /bus spot. From there, you need to walk at least 30 minutes (depending on how fast you walk). The path was very slippery when we visited, and I flipped over twice hitting my hip bone and head against the cold snowy ground.  I strongly recommend, nay URGE,  to wear heavy spike shoes when the road is icy.
3) Enjoy the scenery when you walk! Then you will reach a gate to pay the entrance fee. There are many steps before the entrance gate.
4) You can stay as long as the park is open. Monkeys bath together, fight, and/or play. They seem to enjoy Hot Spring Onsen.
5) On the way back, walk the same path again!  To reach the viewing point of Snow Monkey, you need to be able to walk on slippery path for at least one hour (round trip) and walk up and down steps.
Q: Is a day trip from Tokyo is possible?
No.
When we visited, we stayed in Yudanaka Onsen Town. There are several Onsen towns around.  From the view point of traffic convenience, Yudanaka is the best. It is then time to soak yourself in Hot Spring (no monkeys there!). There are many nice ski slopes in neighborhood if you are a skier. We went to Ryuoo Ski Park the next day!
Q: Are monkeys always there?
A: Most likely yes, but they are wild animals. Humans need to check the latest situation on the park web. You should not walk in the cold for one hour in vain.
(We visited in January 2018)