Cupnoodles (it's 1 word and copyrighted, did you know that?). The one and only, the world famous instant delicacy in a styrofoam cup. Are you a big fan? Because I sure am. You can guess my excitement when we visited the Cupnoodles Museum in Yokohama last week.
Located in Minatomirai, it is one of the key features of the Yokohama bay area. Entry is 500 yen, no need to reserve. However, if you're looking to make your own Cupnoodles, you MUST book online ahead of your visit.
Entrance

Ramen art
Once you enter, you will find yourself surrounded by Cupnoodles and instant ramen throughout the years, from the very first instant Chicken Ramen. This room is a perk for hard core Nisshin fans. There is also a room for a short video clip about Nisshin and its founder Ando Momofuku.
Ramen throughout the years

Ramen around the world

Ando Momofuku, the founder
Once you're done roaming around the exhibition, it's time to make your own cup noodles. Head to the 3rd floor, and line up to get your cup. Most of the time, this museum is crowded. You MUST reserve a time slot in advance, and go to the My Cupnoodle Factory (where you make your own Cupnoodles) in that designated time. It's 300 yen to make your own Cupnoodles; you're only allowed one cup per each guest.
After receiving a cup, it's time to decorate! Use the markers provided to design your very own Cupnoodles. Once you're done, you need to head over and decide the flavor and ingredients. You first need to choose your soup from 4 flavors: shoyu (soy sauce), seafood, curry and chili tomato. Then, you get to choose 4 ingredients from the following 12: Hiyoko-chan fish cake, garlic chips, green bean, cheese, crab flavored fish cake, kimchi, shrimp, corn, Nazo niku (minced pork), green onions, egg, and a limited seasonal ingredient.
My Cupnoodles Factory

Choose your ingredients

..from these 12

Time to close it up!

Sealing the cup
You can take your My Cupnoodles home safely, since they give you an inflatable bag that'll act as a cushion. The whole process takes about 30~40 mins.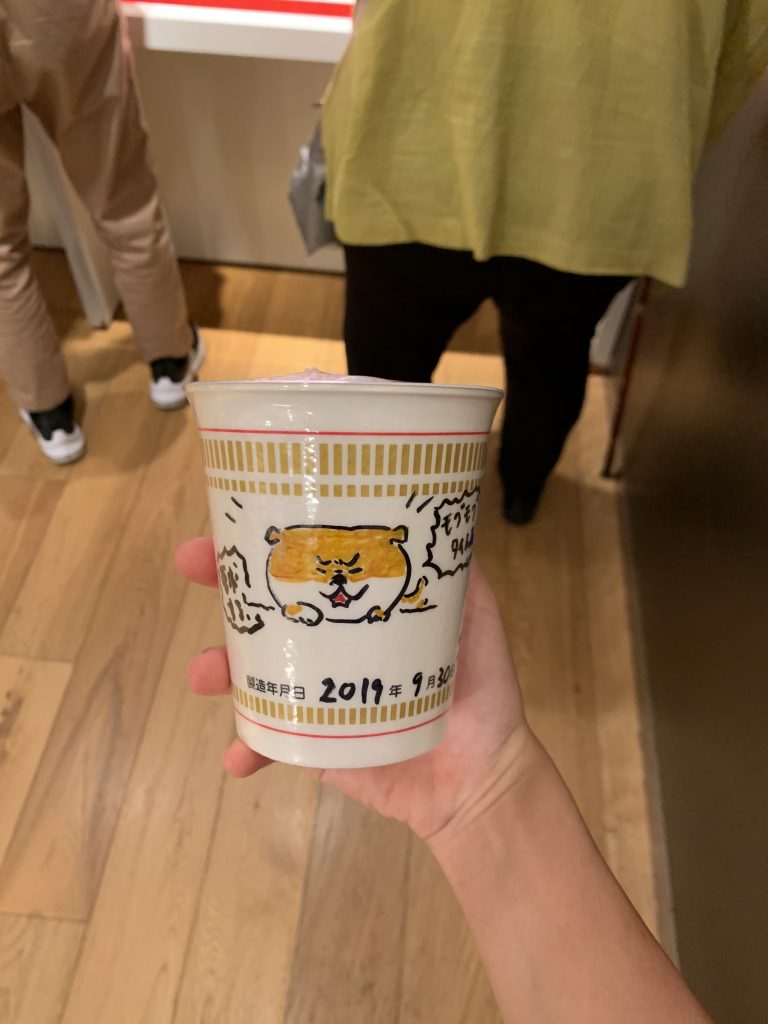 There's a food court that serves noodles from many parts of Asia on the 4th floor. They're all very small portions, so you can try them out as snacks, or just hang out and relax after all the decorating you did. The view from the terrace is great, you get a perfect view of the Yokohama bay.
Food court

Noodles from China

Noodles from South Korea

View from the 4th floor terrace
There's a gift shop on the 1st floor, where you'll find many Cupnoodles related souvenirs. Go all out on your ramen obsession. Overall, I'd say 2 hours at this museum is enough. There is also a Chicken ramen factory, where you can make Chicken ramen from scratch. However, that workshop takes time, and it's always fully booked. My suggestion would be to just book the My Cupnoodles Factory along with your entrance ticket, which they sell on Lawson Ticket as a set deal.